Last week, ABC terminated The Bachelor and The Bachelorette host Chris Harrison after almost 20 years working on the programs.
Harrison lost his job after an Extra interview where he attempted to defend one of the show's contestants. She was facing harsh criticism after photos emerged showing her wearing a questionable Native American costume and attending an "Old South" themed college party.
He suggested the contestant deserved, "a little grace, a little understanding, a little compassion." Harrison also suggested that standards have changed since 2018, when the events in question took place.
Harrison's past included some questionable moments of his own, and this was the final straw. ABC pulled the plug. Harrison had been an integral part of the franchise, but the network felt their hands were tied.
As I watched Harrison's brisk removal unfold, all I could think was: Why on Earth is Dan Bilzerian still associated with GGPoker?
Bilzerian called GGPoker customer a "hoe" with no repercussions
On Dec. 4, GGPoker announced that Bilzerian, Instagram star and lightning rod for controversy, had signed a sponsorship deal with them. The very same day, Bilzerian called a female poker pro and GGPoker customer, Vanessa Kade, a "hoe" on Twitter.
He did so in response to a tweet from Kade expressing her frustration with the deal given Bilzerian's arguably sexist and violent past. He also told her to "be quiet."
This past of Bilzerian's includes throwing an adult film star off a roof, being banned from a night club after kicking a woman in the face, and tweeting statements like "ugly girls hurt my eyes."
Some have said the reason Bilzerian is still with the company is that GGPoker signed him specifically because he can command this kind of attention. There is certainly ample precedent, both within and outside the poker industry, of companies deliberately courting such controversy.
Another poker site, 888Poker, did something very similar in 2014, taking a chance on soccer pro Luis Suárez. Just two months later, the site changed its mind and terminated his contract, following the third instance of him biting a competitor. 888Poker knew he'd bitten opposing players on two previous occasions, and signed him anyway. But bite someone once, shame on you. Bite someone a third time on our dollar and you don't get our dollars anymore.
GGPoker cites contractual problems to explain Bilzerian's continued involvement
The fervor around the initial incident between Kade and Bilzerian had died down since last year. It was brought back into the spotlight, however, when a GGPoker rep reached out to Kade this month. The email was to notify her that her comments about the site rendered her small affiliate contract null and void.
The employee in question didn't stick to business but proceeded to scold Kade in the communication. She said that Kade's comments were "offensive" to her, one of many female employees who are apparently treated quite well by the company.
To GGPoker's credit, the company was quick to issue a statement, unlike the first time around. Unfortunately, that statement was an even bigger PR train wreck than Kade's termination email: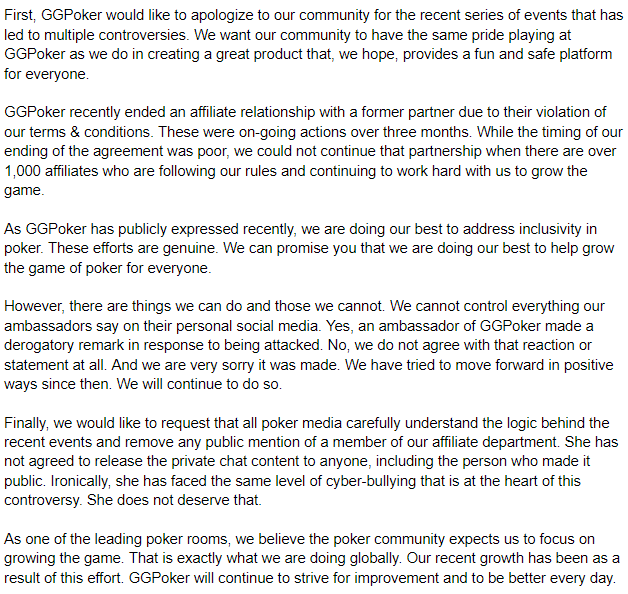 There's one positive thing here. GGPoker finally admitted they do not endorse the sentiment of Bilzerian's comments.
Here's the bad part: They claim that their hands are tied. Apparently, while affiliates like Kade have termination clauses in their contracts for disparaging the company or behavior unbecoming of the brand, Bilzerian's contract contains no such restrictions. According to the statement:
"We cannot control everything our ambassadors say on their personal social media. Once again, there are things we can and cannot do based on contracts."
It is worth noting that we've spoken with both sponsored pros and site representatives at other companies. 100% of them said that their sponsorship contracts definitely include clauses regarding behavior as a public-facing representative of the company. Without exception, any of these sites could terminate players as a result of objectionable behavior. Just ask Dale Philip.
GGPoker hopes Kade and Bilzerian can learn to get along
It appears GGPoker, a rapidly growing poker company, somehow neglected to include such language in their deals, or at least Bilzerian's. To add insult to injury, they issued this follow-up statement shortly thereafter:
Lastly, we are sorry for how

@VanessaKade

feels about our recent ambassador signing. We do hope things improve between you. Once again, there are things we can and cannot do based on contracts.
It is incredibly tone-deaf to encourage the target of a slur to learn to be friends with their attacker. That goes double when the individual in question has, to date, shown no indication of remorse whatsoever. Essentially, GGPoker's message to Kade is to "get over it already."
Which is a hell of a message to put out into the world at this particular point in history.
Yes, the apparent absence of a behavior clause is the primary reason GGPoker finds themselves in this position. Based on their explanation, it seems they're stuck with Bilzerian, someone who, at best, said a deeply inappropriate thing in a heated moment. That said, GGPoker's public statements echo the same problematic attitudes that led to his signing in the first place.
The "but they treat employees so well defense"
Let's start with the defense put forth by the GGPoker representative who terminated Kade's deal. The rep, who is herself a woman, pointed to the number of women employed by the company. Additionally, she noted the accomodating hours and how well women are treated and celebrated in the office.
As a woman who plays on online poker sites, let me say this: I am glad that this company treats women well and pays them fairly and gives them adequate time off. That said, GGPoker could throw a parade for its women employees every week and it would not fix the problem at hand. Fundamentally, this is that the organization does not treat all its customers with basic human decency.
Barstool Sports is another company that tries this defense on a regular basis. Facing criticism, it will parade out CEO Erika Nardini as if having a woman in that role makes it impossible for the company to be sexist. Meanwhile, numerous Barstool podcasters and writers continue to treat the average woman in the world with disrespect and disparagement.
We, the customers don't know how things go in the office. We only know how the company treats us. And we, their female customers, are getting called prostitutes by representatives of the brand.
There is no amount of paid maternity leave that is going to make me okay with that. What would make me feel better about it is someone from the brand publicly condemning and ceasing ties with Bilzerian, or Bilzerian apologizing and never making such comments again.
The "being nice to women is marketing" defense
Over the weekend, another outspoken GGPoker ambassador, Daniel Negreanu, discussed his thoughts on women in poker with vlogger Jeff Gross. Negreanu wasn't speaking about the Bilzerian incident per se, but rather about how to get more women involved in poker. His comments reveal that Negreanu seems to consider showing respect for women to be nothing more than a marketing strategy.
For example, he compares poker to the romance novel industry in reverse. He suggests the audience for such books is 94% women and that the industry doesn't bother thinking about how to appeal to men. For the record, Men's Health recently reported the romance reading audience is actually 18% male. There are, in fact, more men reading romance novels than there are women playing live poker.
It may be true that the romance industry does not have active male outreach efforts. Nonetheless, they do make a concerted effort not to describe men using slurs or depict them in offensive ways. The industry makes men feel welcome by treating them with courtesy, even though they may not be the typical reader.
That's where Negreanu misses the point. It's not simply a lack of marketing to women that keeps us out of poker.
He went on to say:
"Here's the thing. Here's what we do. We demean women and disrespect women by having such a low opinion of them that the behavior of a few men would stop women from doing something that they enjoy. You don't think women are smart enough or tough enough to decide for themselves whether or not they enjoy poker? You think they're gonna let the treatment of men or the marketing stop them from enjoying the game or making a living off it. I don't buy that for a second. It doesn't make no sense whatsoever [sic]."
Women aren't upset at Bilzerian, but rather his apologists
Negreanu is right about one thing. It isn't only the behavior of a few men that stops women from playing poker.
Rather, it is the behavior of all the other men and women in poker who, like Negreanu himself, let these people say such horrible things and do nothing. Those on Kade's side aren't mad that Bilzerian said what he said as much as they are mad that GGPoker, its sponsored pros like Negreanu, and its partners like the World Series of Poker didn't immediately condemn him for it. Unless you sincerely believe he was calling Kade a gardening tool and not commenting on her sexual behavior, there is really no good way to argue that the comment wasn't out of line.
It took four months for GGPoker to even acknowledge that what Bilzerian said was bad and they don't condone it. If their hands are contractually tied, so be it.
However, let's hope that GGPoker and the industry at large can learn from this. It's standard practice in essentially every other industry to add a clause about language and behavior to sponsorship contracts. Doing so going forward would put GGPoker in a position to do something, to say something, and to show that we are an industry that doesn't tolerate this, rather than one that puts the onus on the victim to "just get over it."